Chappie
(R)
Sharlto Copley, Dev Patel
- 2 hr. 0 mins..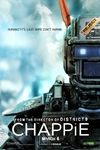 In the near future, crime is patrolled by an oppressive mechanized police force. But now, the people are fighting back. When one police droid, Chappie, is stolen and given new programming, he becomes the first robot with the ability to think and feel for himself. As powerful, destructive forces start to see Chappie as a danger to mankind and order, they will stop at nothing to maintain the status quo and ensure that Chappie is the last of his kind.
Official Site
Trailer
---
Cinderella
(PG)
Cate Blanchett, Lily James
- 1 hr. 53 mins..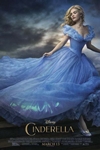 The story follows the fortunes of young Ella whose merchant father remarries following the tragic death of her mother. Keen to support her loving father, Ella welcomes her new stepmother Lady Tremaine and her daughters Anastasia and Drizella into the family home. But when Ella's father suddenly and unexpectedly passes away, she finds herself at the mercy of a jealous and cruel new family. Ella could easily begin to lose hope. Yet, despite the cruelty inflicted upon her, Ella is determined to honor her mother's dying words and to "have courage and be kind." And then there is the dashing stranger she meets in the woods. Unaware that he is really a prince, not merely an employee at the palace, Ella finally feels she has met a kindred soul.
Official Site
Trailer
---
Run All Night
(R)
Liam Neeson, Joel Kinnaman
- 1 hr. 54 mins..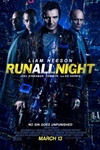 Brooklyn mobster and prolific hit man Jimmy Conlon, once known as The Gravedigger, has seen better days. Longtime best friend of mob boss Shawn Maguire, Jimmy, now 55, is haunted by the sins of his past-as well as a dogged police detective who's been one step behind Jimmy for 30 years. Lately, it seems Jimmy's only solace can be found at the bottom of a whiskey glass. But when Jimmy's estranged son, Mike, becomes a target, Jimmy must make a choice between the crime family he chose and the real family he abandoned long ago. With Mike on the run, Jimmy's only penance for his past mistakes may be to keep his son from the same fate Jimmy is certain he'll face himself…at the wrong end of a gun. Now, with nowhere safe to turn, Jimmy just has one night to figure out exactly where his loyalties lie and to see if he can finally make things right.
Official Site
Trailer
---
The Divergent Series: Insurgent
(PG-13)
Shailene Woodley, Theo James
- 1 hr. 59 mins..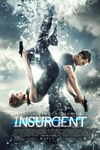 This film raises the stakes for Tris as she searches for allies and answers in the ruins of a futuristic Chicago. Tris and Four are now fugitives on the run, hunted by Jeanine (Winslet), the leader of the power-hungry Erudite elite. Racing against time, they must find out what Tris's family sacrificed their lives to protect, and why the Erudite leaders will do anything to stop them. Haunted by her past choices but desperate to protect the ones she loves, Tris, with Four at her side, faces one impossible challenge after another as they unlock the truth about the past and ultimately the future of their world.
Official Site
Trailer
---
Get Hard
(R)
Kevin Hart, Will Ferrell
- .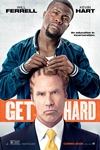 When millionaire hedge fund manager James is nailed for fraud and bound for a stretch in San Quentin, the judge gives him 30 days to get his affairs in order. Desperate, he turns to Darnell to prep him for a life behind bars. But despite James' one-percenter assumptions, Darnell is a hard-working small business owner who has never received a parking ticket, let alone been to prison. Together, the two men do whatever it takes for James to "get hard" and, in the process, discover how wrong they were about a lot of things - including each other.
Official Site
Trailer
---
Home
(PG)
Jim Parsons, Rihanna
- 1 hr. 36 mins..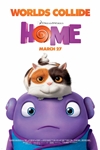 When Oh, a loveable misfit from another planet, lands on Earth and finds himself on the run from his own people, he forms an unlikely friendship with an adventurous girl named Tip who is on a quest of her own. Through a series of comic adventures with Tip, Oh comes to understand that being different and making mistakes is all part of being human. And while he changes her planet and she changes his world, they discover the true meaning of the word HOME.
Official Site
Trailer
---
Furious 7
(PG-13)
Dwayne Johnson, Vin Diesel
- .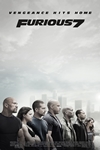 Official Site
Trailer
---
The Longest Ride
(PG-13)
Scott Eastwood, Britt Robertson
- .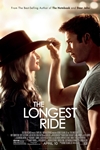 This drama centers on the star-crossed love affair between Luke, a former champion bull rider looking to make a comeback, and Sophia, a college student who is about to embark upon her dream job in New York City's art world. As conflicting paths and ideals test their relationship, Sophia and Luke make an unexpected and fateful connection with Ira, whose memories of his own decades-long romance with his beloved wife deeply inspire the young couple. Spanning generations and two intertwining love stories, this film explores the challenges and infinite rewards of enduring love.
Official Site
Trailer
---
Paul Blart: Mall Cop 2
(PG)
Kevin James, Raini Rodriguez
- .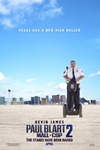 After six years of keeping our malls safe, Paul Blart has earned a well-deserved vacation. He heads to Vegas with his teenage daughter before she heads off to college. But safety never takes a holiday and when duty calls, Blart answers.
Official Site
Trailer
---
The Age of Adaline
(PG-13)
Blake Lively, Harrison Ford
- .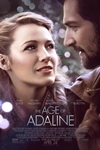 After miraculously remaining 29 years old for almost eight decades, Adaline Bowman has lived a solitary existence, never allowing herself to get close to anyone who might reveal her secret. But a chance encounter with charismatic philanthropist Ellis Jones reignites her passion for life and romance. When a weekend with his parents threatens to uncover the truth, Adaline makes a decision that will change her life forever.
Official Site
Trailer
---
Avengers: Age of Ultron
(NR)
Robert Downey Jr., Chris Evans
- .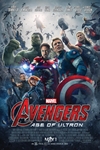 The epic follow-up to the biggest Super Hero movie of all time. When Tony Stark tries to jumpstart a dormant peacekeeping program, things go awry and Earth's Mightiest Heroes, including Iron Man, Captain America, Thor, The Incredible Hulk, Black Widow and Hawkeye, are put to the ultimate test as the fate of the planet hangs in the balance. As the villainous Ultron emerges, it is up to the Avengers to stop him from enacting his terrible plans, and soon uneasy alliances and unexpected action pave the way for an epic and unique global adventure.
Official Site
Trailer
---
Hot Pursuit
(NR)
Sofía Vergara, Reese Witherspoon
- . In "Hot Pursuit," an uptight and by-the-book cop tries to protect the sexy and outgoing widow of a drug boss as they race through Texas, pursued by crooked cops and murderous gunmen.
Official Site
Trailer
---