Avengers: Age of Ultron
(PG-13)
Robert Downey Jr., Chris Evans
- 2 hr. 22 mins..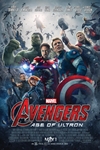 The epic follow-up to the biggest Super Hero movie of all time. When Tony Stark tries to jumpstart a dormant peacekeeping program, things go awry and Earth's Mightiest Heroes, including Iron Man, Captain America, Thor, The Incredible Hulk, Black Widow and Hawkeye, are put to the ultimate test as the fate of the planet hangs in the balance. As the villainous Ultron emerges, it is up to the Avengers to stop him from enacting his terrible plans, and soon uneasy alliances and unexpected action pave the way for an epic and unique global adventure.
Official Site
Trailer
---
Hot Pursuit
(PG-13)
Sofía Vergara, Reese Witherspoon
- .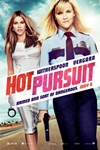 In "Hot Pursuit," an uptight and by-the-book cop tries to protect the sexy and outgoing widow of a drug boss as they race through Texas, pursued by crooked cops and murderous gunmen.
Official Site
Trailer
---
Mad Max: Fury Road
(R)
Charlize Theron, Tom Hardy
- .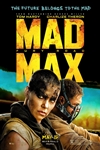 The continuing apocalyptic adventures of Max Rocketanski and his supercop cronies.
Official Site
Trailer
---
Pitch Perfect 2
(PG-13)
Anna Kendrick, Elizabeth Banks
- .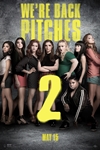 A sequel to the 2012 musical comedy that follows Fat Amy and Beca through their senior year at Barden University.
Official Site
Trailer
---
Poltergeist
(PG-13)
Sam Rockwell, Jared Harris
- .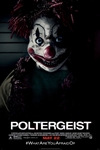 A family's suburban home is haunted by evil forces. When the terrifying apparitions escalate their attacks and hold the youngest daughter captive, the family must come together to rescue her before she disappears forever.
Official Site
Trailer
---
Tomorrowland
(PG)
George Clooney, Hugh Laurie
- .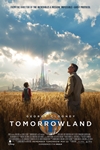 Bound by a shared destiny, former boy-genius Frank, jaded by disillusionment, and Casey, a bright, optimistic teen bursting with scientific curiosity, embark on a danger-filled mission to unearth the secrets of an enigmatic place somewhere in time and space known only as "Tomorrowland." What they must do there changes the world—and them - forever.
Official Site
Trailer
---
San Andreas
(PG-13)
Dwayne Johnson, Carla Gugino
- .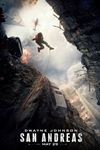 After the infamous San Andreas Fault finally gives, triggering a magnitude 9 earthquake in California, a search and rescue helicopter pilot and his estranged wife make their way together from Los Angeles to San Francisco to save their only daughter. But their treacherous journey north is only the beginning. And when they think the worst may be over...it's just getting started.
Official Site
Trailer
---
Entourage
(R)
Jeremy Piven, Adrian Grenier
- .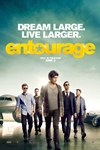 Movie star Vincent Chase, together with his boys, Eric, Turtle and Johnny, are back…and back in business with super agent-turned-studio head Ari Gold. Some of their ambitions have changed, but the bond between them remains strong as they navigate the capricious and often cutthroat world of Hollywood.
Official Site
Trailer
---
Insidious: Chapter 3
(PG-13)
Dermot Mulroney, Stefanie Scott
- .
Official Site
Trailer
---
Spy
(R)
Melissa McCarthy, Jason Statham
- .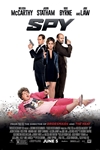 Susan Cooper is an unassuming, deskbound CIA analyst, and the unsung hero behind the Agency's most dangerous missions. But when her partner falls off the grid and another top agent is compromised, she volunteers to go deep undercover to infiltrate the world of a deadly arms dealer, and prevent a global disaster.
Official Site
Trailer
---
Jurassic World
()
Chris Pratt, Bryce Dallas Howard
- .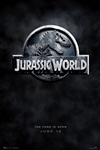 The story unfolds 22 years after the events of "Jurassic Park," in a fully functional resort on Isla Nublar that sees more than 20,000 visitors a day. Guests arrive by boat from Costa Rica, and the new park includes a biological preserve, a safari, a zoo, and a theme park type setting. The island also contains a luxury resort with hotels, restaurants, nightlife, and golf. And, of course, unprecedented up-close access to real, living dinosaurs - the full execution of John Hammond's dream. But humanity's continuing efforts to dominate nature generate unexpected, and dangerous, results.
Official Site
Trailer
---
Inside Out
(PG)
Amy Poehler, Mindy Kaling
- .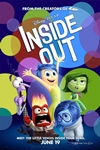 Growing up can be a bumpy road, and it's no exception for Riley, who is uprooted from her Midwest life when her father starts a new job in San Francisco. Like all of us, Riley is guided by her emotions - Joy, Fear, Anger, Disgust and Sadness. The emotions live in Headquarters, the control center inside Riley's mind, where they help advise her through everyday life. As Riley and her emotions struggle to adjust to a new life in San Francisco, turmoil ensues in Headquarters. Although Joy, Riley's main and most important emotion, tries to keep things positive, the emotions conflict on how best to navigate a new city, house and school.
Official Site
Trailer
---
Ted 2
(NR)
Mark Wahlberg, Seth MacFarlane
- .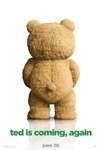 Newlywed couple Ted and Tami-Lynn want to have a baby, but in order to qualify to be a parent, Ted will have to prove he's a person in a court of law.
Official Site
Trailer
---