Fighting with My Family
(PG-13)
Florence Pugh, Lena Headey
- 1 hr. 48 mins..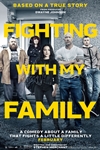 FIGHTING WITH MY FAMILY is a heartwarming comedy based on the incredible true story of WWE Superstar Paige™. Born into a tight-knit wrestling family, Paige and her brother Zak are ecstatic when they get the once-in-a-lifetime opportunity to try out for WWE. But when only Paige earns a spot in the competitive training program, she must leave her family and face this new, cut-throat world alone. Paige's journey pushes her to dig deep, fight for her family, and ultimately prove to the world that what makes her different is the very thing that can make her a star.
Official Site
Trailer
---
How to Train Your Dragon: The Hidden World
(PG)
Jay Baruchel, America Ferrera
- 1 hr. 44 mins..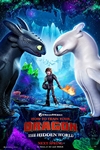 As Hiccup fulfills his dream of creating a peaceful dragon utopia, Toothless' discovery of an untamed, elusive mate draws the Night Fury away. When danger mounts at home and Hiccup's reign as village chief is tested, both dragon and rider must make impossible decisions to save their kind.
Official Site
Trailer
---
Total Dhamaal
(NR)
Ajay Devgn, Madhuri Dixit
- 1 hr. 52 mins..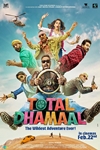 And the madness & the craziness of the biggest franchise of laughter continues. Total Dhamaal is a mad adventure comedy about money. Guddu (Ajay Devgn), a small time crook gets double-crossed by his own colleague, Pintu (Manoj Pahwa), after they have managed to get their hands on an illegal booty. Guddu & his sidekick Johnny (Sanjay Misra) manage to trace his colleague but only after Pintu has given the information of the booty to 3 other groups i.e. Avinash (Anil Kapoor) & Bindu (Madhuri Dixit Nene) - a bickering couple about to be divorced; Lallan (Riteish Deshmukh) & Jhingur (Pitobash Tripathy) – Fire Officers turned offenders & two weird siblings Aditya (Arshad Warsi) & Manav (Javed Jaffrey). All of them refuse Guddu's offer to distribute the money and the race to reach the booty first begins. Finally after many ups & downs all reach the designated place. But it's not as easy as it seems. Is there any truth about the hidden booty? Or all of them are being fooled? After a day full of life changing, near death experiences, will the adventure ever end or another one begin? Find out how the story concludes and if they are able to get the booty or not!
Official Site
Trailer
---
Captain Marvel
(PG-13)
Brie Larson, Samuel L. Jackson
- 2 hr. 8 mins..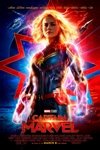 The story follows Carol Danvers as she becomes one of the universe's most powerful heroes when Earth is caught in the middle of a galactic war between two alien races. Set in the 1990s, Captain Marvel is an all-new adventure from a previously unseen period in the history of the Marvel Cinematic Universe.
Official Site
Trailer
---
Wonder Park
(PG)
Jennifer Garner, Matthew Broderick
- 1 hr. 25 mins..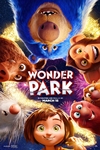 WONDER PARK tells the story of a magnificent amusement park where the imagination of a wildly creative girl named June comes alive.
Official Site
Trailer
---
Dumbo
()
Colin Farrell, Michael Keaton
- 2 hr. 10 mins..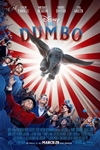 Circus owner Max Medici (Danny DeVito) enlists former star Holt Farrier (Colin Farrell) and his children Milly (Nico Parker) and Joe (Finley Hobbins) to care for a newborn elephant whose oversized ears make him a laughingstock in an already struggling circus. But when they discover that Dumbo can fly, the circus makes an incredible comeback, attracting persuasive entrepreneur V.A. Vandevere (Michael Keaton), who recruits the peculiar pachyderm for his newest, larger-than-life entertainment venture, Dreamland. Dumbo soars to new heights alongside a charming and spectacular aerial artist, Colette Marchant (Eva Green), until Holt learns that beneath its shiny veneer, Dreamland is full of dark secrets.
Official Site
Trailer
---
Shazam!
(PG-13)
Zachary Levi, Asher Angel
- .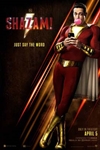 We all have a superhero inside us, it just takes a bit of magic to bring it out. In Billy Batson's (Angel) case, by shouting out one word SHAZAM! this streetwise 14-year-old foster kid can turn into the adult Super Hero Shazam (Levi), courtesy of an ancient wizard. Still a kid at heart inside a ripped, godlike body Shazam revels in this adult version of himself by doing what any teen would do with superpowers: have fun with them! Can he fly? Does he have X-ray vision? Can he shoot lightning out of his hands? Can he skip his social studies test? Shazam sets out to test the limits of his abilities with the joyful recklessness of a child. But he'll need to master these powers quickly in order to fight the deadly forces of evil controlled by Dr. Thaddeus Sivana.
Official Site
Trailer
---
Missing Link
(PG)
Hugh Jackman, Zoe Saldana
- .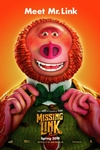 This April, meet Mr. Link: 8 feet tall, 630 lbs, and covered in fur, but don't let his appearance fool you... he is funny, sweet, and adorably literal, making him the world's most lovable legend at the heart of Missing Link, the globe-trotting family adventure from LAIKA. Tired of living a solitary life in the Pacific Northwest, Mr. Link recruits fearless explorer Sir Lionel Frost to guide him on a journey to find his long-lost relatives in the fabled valley of Shangri-La. Along with adventurer Adelina Fortnight, our fearless trio of explorers encounter more than their fair share of peril as they travel to the far reaches of the world to help their new friend. Through it all, the three learn that sometimes you can find a family in the places you least expect.
Official Site
Trailer
---